The VOice MObile (VOMO)
Carry on Vocal Booth
From VoiceActing Academy
and Vocal Booth to Go
The Carry-on Vocal Booth Pro beats every other portable voiceover booth…
…hands-down!
And we've listened to them all! 
If you've been looking for a great portable voiceover booth to use  when traveling, or if you have limited space for recording at home, you really need to check out the VOMO portable voice booth before you buy anything else.
VOMO stands for VOice MObility…
And that's EXACTLY what you get!
Imagine my delight when my engineering hero, James Alburger commented on a recent Reader's Digest narration I had done: "That was done using a Portable Carry-on Vocal Booth?  The sound was dead on!"  I rent my home and space is limited so the Portable Carry-on Vocal Booth (VOMO) is perfect for me. It gives me very clean recordings without that boxy sound I've had in the past. Now I feel totally confident that I am delivering a professional clean sound… if it passes Jim's ear, it's good enough for me!

Martha Kahn, Voice Actor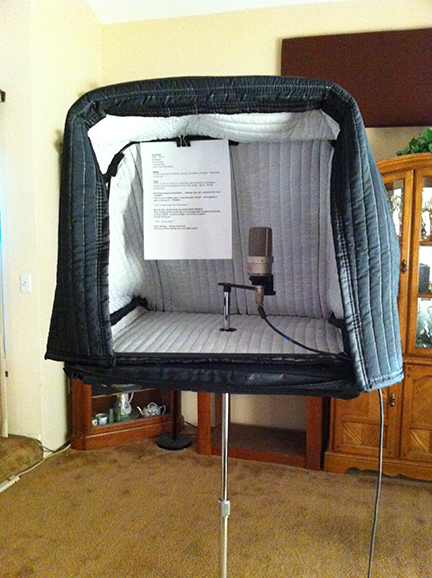 The VOMO portable voice booth from VoiceActing,com and Vocal Booth To Go solves every problem that exists with the other so-called "portable" track booths on the market. And it does it at a very affordable price!
A Completely New concept for Portable Voice Recording!
I'm extremely pleased to have contributed to the design of the original Carry on Vocal Booth Pro. I've been designing home studios since before the term even existed and I've designed two TV audio control rooms and a television remote audio truck, plus several home studios for myself and my clients. To put it simply, I know a lot about microphones, recording equipment and acoustics. Vocal Booth to Go was already gaining a reputation for exceptional acoustic control with their Producer's Choice Sound Blankets when they first approached me for my input. As their new portable VO booth began to take shape, it became very clear that there was nothing else on the market that was as quick and easy to use and made personal home or location recordings sound like they were recorded in a studio. Even in a noisy environment, the VOMO Carry on Vocal Booth produces great results! I've used most of the other so-called portable VO booths and the VOMO Carry on Vocal Booth is the only one I recommend.
James R. Alburger, VoiceActing Studios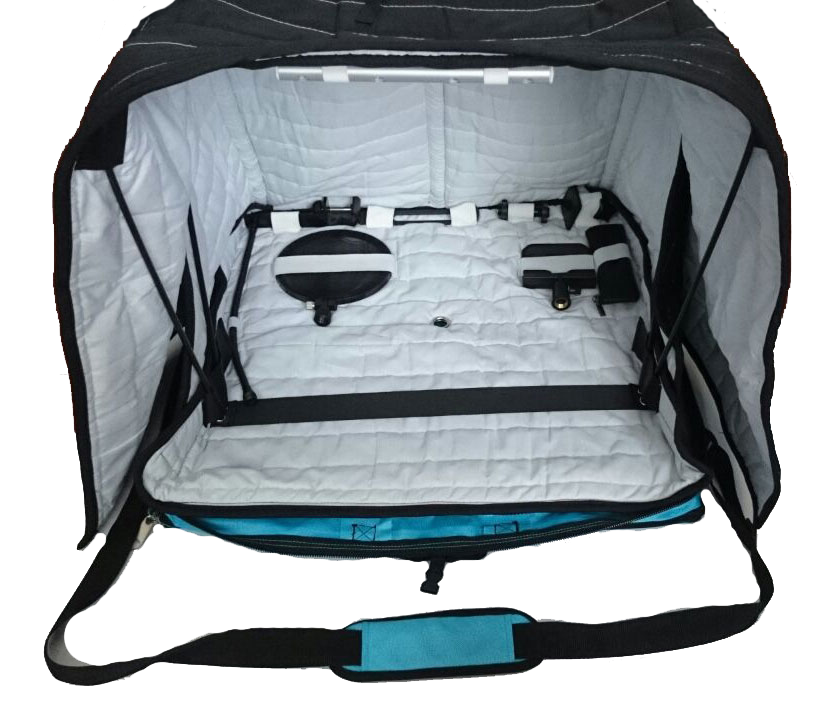 What More Could You Ask For?
The VOMO portable voice booth is made from world-famous Producer's Choice Sound Blankets that are specially designed for highly efficient acoustic treatment without creating a "boomy" or "boxy" sound.
It's light weight at less than 12 lbs with table base and about 8 lbs without. Other units can weigh up to twice as much (or more).
In its closed position, there is plenty of room inside for your tablet or phone, cables, mic and everything you need for recording on the road. Most other booths have little or no inside space when packed, so you need another case for your computer and recording gear.
The VOMO portable voice booth packs flat at about 5" thick – even with equipment inside – and easily fits in an aircraft overhead compartment, so it travels better than other booths that are big and bulky. Carry handles and a shoulder strap are included.
VOMO is built into a self-contained carry case of durable rip-stop nylon with only ONE zipper. It assembles and breaks down in under 30-seconds with nothing to take apart or put aside. Other zippered booths have a separate case or box and can take up to 3 or 4 minutes to assemble or break down with many zippers that can be troublesome to work with.
When open, the VOMO portable voice booth has a full 22"h x 22"w x 20"d of totally functional, flat, acoustically absorbent internal working space. Other booths with acoustic foam construction have little to no internal working space (about 16"h x 18"w x 12"d) with no flat surface, limited functionality and little or no room for any accessories.
The VOMO portable voice booth has a built-in metal table that gives it plenty of support so it can be used in just about any situation. If desired, the table can be easily removed to reduce weight for desktop use.
A special mounting bracket is included for mounting the VOMO booth on any mic stand. When mounted on a mic stand, the VOMO booth is perfectly balanced and the mic stand can be adjusted independently. Other booths are difficult or impossible to mount on a mic stand.
With its special mic bracket, your mic can be positioned deep into the VOMO booth or closer to the front, depending on your room conditions and desired sound. Most other booths have a fixed position for your mic, especially if the booth is mounted on a mic stand.
A good-size LED light is included that provides plenty of illumination so you can actually see your script. Other booths come with a small, single, clip-on LED light that may not provide adequate illumination.
The VOMO booth also includes an iPad holder that will allow for any tablet or smart phone to be mounted on its inside mounting bracket.
Your script can easily be clipped to one the VOMO's two internal support arms or leaned against the back wall. Most other booths literally have no place to put the script or tablet, which means you have to hold it, often outside the booth work space.
With its ample internal open working space, the VOMO booth allows you to put your head fully inside the booth for maximum acoustic effectiveness. Most other booths force you to perform with your head outside of the booth's acoustic space, which means the mic is much more likely to pick up undesirable room reflections.
Here's How Easy it is to Use VOMO!
Traditional acoustic treament is "old school"
One of the most commonly accepted forms of treatment for eliminating or reducing reflected sound waves is acoustic foam. Pyramid, Wedge and other acoustic foam designs have proven themselves over the years to be effective at improving room acoustics. This can work well attached to the walls of a room, but acoustic foam is not designed to be portable. And, because acoustic foam is the end result of a chemical process, it requires special treatment for fireproofing in order to meet fire codes. The ingredient used to fireproof acoustic foam contains some organic compounds which can tend to cause deterioration of the foam over time. This is why you'll often find older installations of acoustic foam that will flake or fall apart when touched. Although newer formulas for acoustic foam have a longer shelf life, eventually, all acoustic foam will need to be replaced.
A better way to handle your noise problems
The VOMO portable voice booth – and every other vocal booth from Vocal Booth To Go.com – uses the exact same Producer's Choice Sound Blankets (PCSB) that were designed for Hollywood's major film studios. The full-size PCSB are 8' x 7' with grommets and are perfect for treating the entire wall of a small room. They are, basically, acoustically designed extra large furniture blankets that are filled with special materials designed to produce approximately 80% reduction of reflected sound waves. Three or four of these Sound Blankets in a small room will result in an excellent recording space. But for many voiceover talent, space and budget are both at a premium.
That's where VOMO (VOice MObility) comes in!
Since it is constructed from the same high-end acoustically designed Producer's Choice Sound Blankets, it does an amazing job of preventing reflected sounds in a room from reaching the microphone. The additional benefit of the voice actor being able to actually work inside the VOMO booth makes it far more effective that the competition. Plus, because the VOMO booth is made from fabric, if it ever gets dirty it can easily be disassembled for cleaning.
This is Your New Favorite VO Booth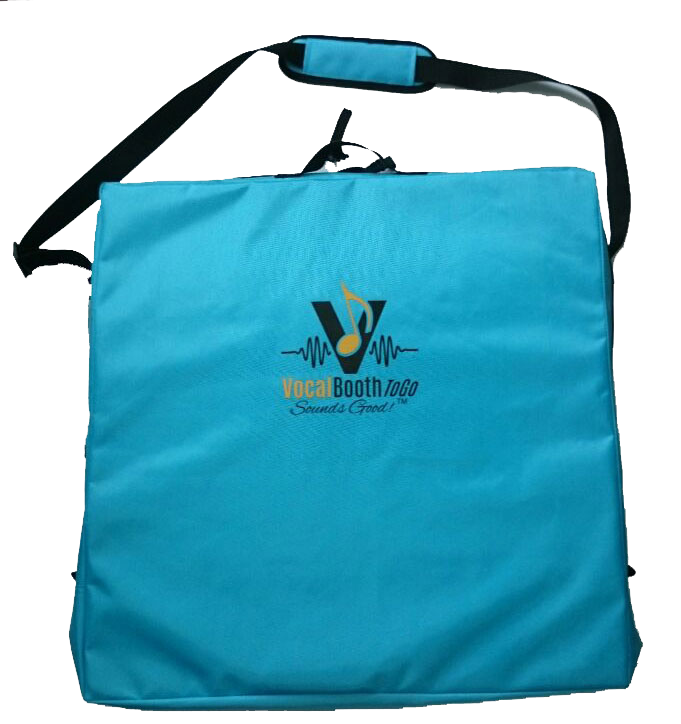 The going price for most so-called "portable" voiceover booths is around $350 or more. The new generation VOice MObility portable booth sells for $425.77… and its worth every penny!
Like its predecessor, the Carry-on Vocal Booth, VOMO is designed to travel as carry-on luggage for any airline .
It's easier to set up and break down,
Easily attaches to any mic stand,
Is easier to work with,
Sounds better,
Is more portable than any of its competitors.
Now includes the VOMO Hood for additional acoustic isolation.
Sound Control Problems… Solved!
The problem with most other portable voiceover booths is that the front opening of the booth exposes the microphone to the open room environment. Even though the microphone might be inside the booth, you are working outside the booth. If the environment is noisy or has a lot of hard-surface reflections, the sound of your voice will bounce around that space and some of those reflections or noise will enter the mic and get into your recording.
The VOMO Sound Isolation Hood (SIH) is an accessory that attaches to the top of the VOMO and completely surrounds you as you work. The result is crystal-clear – and VERY quiet recordings. The SIH is made from the same sound blanket material as VOMO and provides excellent isolation from external noise. Because you will be working inside a completely enclosed space, there are zero reflected sounds… so the result is pristine recordings every time.
The VOMO Sound Isolation Hood is included with your order!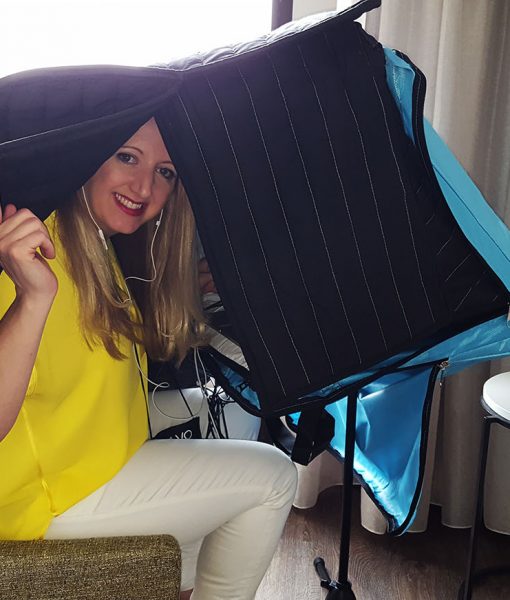 Put the Vocal Booth To Go VOice Mobility (VOMO) Carry-on Vocal Booth to work today!
Add the VOMO Travel Tripod Stand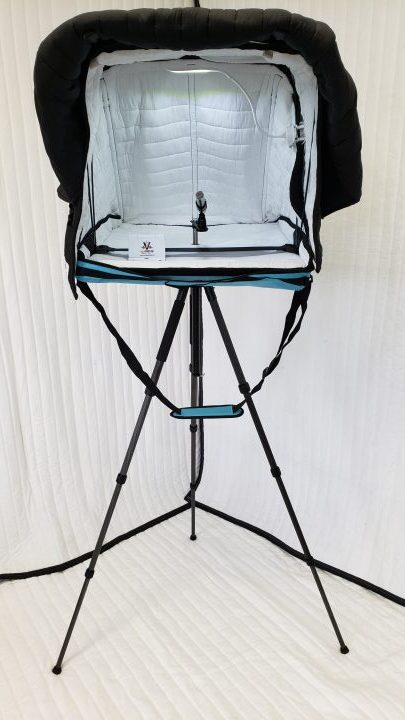 The VOMO Travel Tripod Stand is a lightweight tripod that is designed to hold the VOMO booth securly as you record your voice tracks.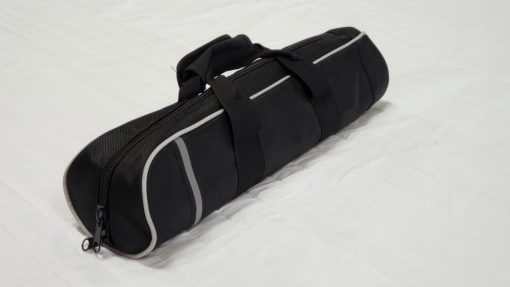 Order your Travel Tripod Stand Today!
Add the VBM-90s Microphone
to Complete Your Package

The VBM-90S is a small diaphragm condenser microphone designed for voice actors and audio recording professionals who travel a lot. This mic is ideal for use with the VOMO portable booth. It is a light weight, short shotgun microphone, that provides excellent quality sound recording.
It is very affordably priced, yet it delivers the sound quality of a high end microphone. This mic presents a very clean sound with good low frequencies and a crisp high end. When tested, the internal noise of this mic was lower than many large-diaphragm condenser microphones and comparable to the Sennheiser 416 in sound quality. When playing recorded silence, internal noise was nearly inaudible.
The VBM-90S has two switches: a 10dB attenuation switch (useful when recording loud musical instruments) and a low frequency roll-off switch.
This superior microphone meets the stringent requirements of even the most demanding digital recording and live sound applications.
Included: VBM-90s Microphone, Storage case, Stand adapter, Foam wind screen.
Specs: Freq. Response: 30Hz-20KHz; Impedance: 200 Ohms; Max SPL: 129db; S/N: 76db; Dimensions: 5.25″ x 1″: Requires 48v phantom power (no battery compartment); Connector: XLR-3M
Order your VBM-90s Mic Today!
Get Your VOMO Portable Vocal Booth Today
Prices below do not include shipping or CA sales tax.
Sales Tax and Shipping will be added at checkout.
Orders are usually shipped within 48 hours via FedEx Ground. 7-10 day delivery.
For more information or to order other Vocal Booth to Go products, call 858.484.0220