Now Available as an eBook Download
Demo & Marketing Magic… is nothing less than fantastic!
Of course that's just you Penny. Once again you made all the overwhelming, accessible and comprehensive without being condescending. I'm still digesting this wonderful book and taking it all in. I know it will be an indispensable tool in my career now and always. I look forward to further editions as well as new books! Hope to work with you again soon!
     Holly Shively—Denver, CO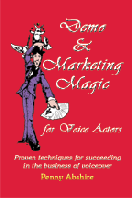 Proper training in voice acting is important, but you really should have a good understanding of your business before you start marketing yourself as a professional voice talent. This little book will show you how to set up your business for maximum impact when you start marketing.
This book is a must-read if you are preparing for your first voiceover demo. You'll learn what you need to include in your demo to make it a marketable tool for your voiceover work.
You changed my perception of marketing and promotion into the concept of "branding". Now I have a clear path to a more successful career. I'm working with a graphics artist to pull it all together. I'll be sure to send off the finished product. Thanks again!
     Robert Bair—Charlotte, NC
Order:
Demo & Marketing Magic
Downloadable eBook
$19.97