Everything You Need to Know About Your VO Demo
(Well… almost everything!)
If you are seriously considering producing your voiceover demo with us or anyone else, we suggest you read this entire page.
Listen to VO demos we've produced HERE.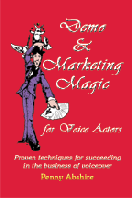 Portions excerpted from Penny Abshire's
Demo & Marketing Magic for Voice Actors

There's a LOT of information on this page, so we suggest you print this page for future reference. When you are ready to produce your demo, read this page to learn about our production process, then just give us a call at 858.484.0220.
DO I REALLY NEED A DEMO?
Whether you're a working professional or just starting out ~ every voice actor needs a well-produced demo to get work.
The purpose of a demo is to show talent buyers what you can do, not necessarily what you have done. It cannot simply be a "good" demo. In today's highly competitive voiceover market, your demo must be "great!"
Your voiceover demo needs to demonstrate your versatility and variety as a performer. A dry recording will usually work as a single audition, but as a comprehensive demo, it simply won't present you as a professional voice talent. Your demo needs to represent, as realistically as possible, what you sound like in a real production… it must quickly grab the attention of the talent buyer, and hold their attention by constantly offering something new in your delivery every few seconds.
Your demo will be heard either before or after demos from voice artists who have most likely been doing voiceover work a lot longer than you, and your demo needs to be at least as good or better than theirs.
James R. Alburger has been producing voiceover demos for over 15 years and knows what producers and talent buyers are looking for.
WARNING!
Ask a lot of questions to any person or company you are considering to handle production of your demo. Request samples of demos they have produced (ours are here), and ask for names and contact information of people you can talk to. Don't rely on testimonials posted on their web site or in print materials. Compare prices between demo producers in your area, and get a detailed breakdown of what is included. If a demo producer "promises" exposure to agents or talent buyers, or makes any guarantees of work after your demo is completed, you may want to consider looking elsewhere as they are probably either a scam or a "demo mill". There are a rare few demo producers who are either former agents or who have legitimate connections for talent bookings. As a voice-artist, you are ultimately going to be responsible for your own marketing and promotion. Although some producers may offer demo showcases, any promises made should be viewed as a "red flag."
HOW WILL I KNOW I'M READY TO PRODUCE MY DEMO?
Next to your training and home studio, your demo is going to be one of the most expensive and important aspects of your work, so don't be in a hurry to produce your VO demo! If a voice-over coach or demo producer suggests that you should produce your demo immediately after taking their class (and you have no other performing experience), or that a demo is included in the price of a workshop, We strongly suggest you look for a different class and a different demo producer. The only exception where including a demo as part of a workshop might be justified would be for an audio book demo. 
It is very rare that someone with no experience will be ready to produce a competent and marketable demo after taking a single class. Would you go out and promote yourself as a master artist after taking a single art class? Would you be ready to play Carnegie Hall after taking two months of piano lessons? Would you be ready to audition for a Broadway show after taking a few acting or dancing classes? Of course not! So why would you think you would have the skills in place to produce a competitive demo after only one workshop?
Be absolutely certain you are ready as a performer and have a mastery of voice acting skills before producing your demo. A voice-over coach can only give you an idea of what they think about your performing skills. Only YOU will truly know when you are ready to produce your demo. My recommendation is that you will know you are ready when you can pick up any script, and instinctively "know" what you need to do with that script after only reading it through once or twice. Ultimately, you'll know when you are ready for your demo when you no longer need to ask that question.
WHAT WILL I DO WITH MY DEMO?
In a word… Marketing! You'll be using your demo to market and promote yourself as a professional voice talent. In order to do that, you should have your business plan in place BEFORE producing your demo. Penny Abshire's book Demo & Marketing Magic for Voice Actors will give you the information you need in order to develop an effective marketing and business plan for your voiceover work. I also highly recommend Jonathan Tilley's "League of List Builders" course.
WHAT KIND OF DEMO SHOULD I DO?
Voiceover demos come in a variety of flavors. Some of the most common are:  Commercial, Industrial/Narrative, Character (including niche demos for animation and video games), Promo, Trailer, and Audio Book. The type of demo you have produced will depend on the kind of voiceover work you want to focus on and what you do best. Keep in mind that your Commercial voiceover demo will be the entry to voiceover work as this type of demo should show what you can do in most other types of VO work. Of course, many voice actors have several different demos to market themselves in several areas.
The only way you will learn what you do best will be by working with a variety of voiceover coaches to learn a variety of voiceover styles.
HOW SHOULD I PREPARE FOR MY DEMO?
An average 1:00 to 1:30 commercial demo will contain between 10 and 15 short "clips" of various tracks each demonstrating a unique attitude or emotion. Prepare for your demo session by finding 30 – 40 possible scripts or short lines of copy (about :05 – :15 each). Modify print ads, transcribe commercials or write your own copy if that's one of your talents (note: if you're not an accomplished copy writer, we don't recommend writing your own copy). Include a range of emotions, attitudes and delivery styles to demonstrate your versatility. Some demo producers recommend including a few client names to show how you can "sell" the advertiser's name. Although we recommend that you find your own copy that works best for you, we do have hundreds of scripts available. Music and sound effects should be added for extra production value, but these will be handled by your demo producer. It is common to have separate demos for each area in which you are marketing yourself. If you have an agent, you will very likely need a 1-minute "cut-down" version of each demo for their house demo CD. Study other voice talent demos to get an idea of variety and the styles of delivery you might include in your demo. There are many sites that have lots of demos for you to study. One of the most comprehensive is www.voicebank.net (click on "house reels", select a talent agent, and start listening).
CAN I PRODUCE MY OWN DEMO?
The answer to this question is "yes," and "no."
By the time you are ready to produce your VO demo, you will most likely have assembled the basic equipment for a home studio. However, just having the equipment does not necessarily qualify you as an audio producer or recording engineer. Producing a marketable voiceover demo requires an extensive background in audio production, sound design, music editing, a thorough understanding of the voiceover marketplace, and more.
So, yes… you may be able to produce your own demo – but if you really expect to get any work, you'll be wise to hire an experienced demo producer who knows the business and knows what talent buyers are looking for. Keep two things in mind… when it comes to your VO demo, you will definitely get what you pay for… and you will only get one chance to make a first impression.
WHERE WILL MY DEMO BE PRODUCED?
When VoiceActing Studios produces your demo, James Alburger will take you through every step of your demo session at a very reasonable cost (about one-half of what your production would cost in Los Angeles). You can record your tracks in our San Diego studio, or provide copies of work you have done. We can also supervise out-of-town voice recordings if you are not able to come to our San Diego studio. Please call 858.484.0220 for more information.
Regardless of who you hire to produce your demo, we encourage you to ask a lot of questions about their production experience and studio facilities, and listen to several demos produced at the facility. It's also important to ask the demo producer what sorts of demos they produce. For example, we specialize in producing commercial, narration, audio book, trailer, promo and character voice demos. But we generally don't produce radio imaging, animation or video game demos. It's not that we can't produce those demos (because we can), rather it's that we want you to have the best possible demo, and there are imaging, animation and game demo producers in Los Angeles who specialize in those types of demos.
WHAT ABOUT DEMO FORMATS?
The most common format for a demo today is an electronic MP3 file. However, some talent agents still request a small number of demos on audio CD. Although an audio CD is still, and will continue to be, an excellent "audio business card," you will absolutely need a high quality MP3 file of your completed demo that you will post on your web site, post on other websites, and e-mail directly to prospects. We recommend a sample rate of 44.1KHz at 128Kbps (audio CD standard). A higher sample rate or bit rate will result in a larger file and will not appreciably improve the perceived quality.
Don't even consider audio cassette, as that format is obsolete.
HOW MUCH WILL MY DEMO COST?
Demo production costs will vary widely depending on the complexity of the production, who your demo producer is, where your have your demo produced, and how quickly you can get to the best take. Demo sessions produced by James Alburger and VoiceActing Studios are reasonably priced and include directing, full production, studio time, and custom written copy as needed. Please click here for more information on our demo production services.
Some demo producers will charge you for their services as producer/director and you will also be responsible for paying for the session time at the recording studio.
Regardless of where you have your demo produced, you will need music and sound effects to create realistic production value. Music must be licensed and that fee can either be built into a package price or itemized. There is usually no charge for sound effects. If your engineer is not an experienced voiceover talent director, you would be wise to hire a local professional voice actor or demo producer to supervise your session.
BUDGETING FOR YOUR DEMO:
Starting from scratch:
If you are doing your demo from scratch, budget approximately $1,700 for production by James Alburger and VoiceActing, LLC. Production costs may be considerably higher in Los Angeles, New York and other major cities. We know some demo producers who charge $3,500 to $5,000 to produce a demo. Our average demo production is $1,597.
Re-working or adding new tracks to an existing demo:
Budget approximately $600—$800 for production of a demo from materials you are providing and where there is no original tracking or production added. Music license fees may apply to any new tracks produced for your demo. When modifying an existing demo, you will probably save some money by booking the session on an hourly basis for studio time plus any additional licensing fees that might apply.
WHAT OTHER COSTS CAN I EXPECT?
Expect some additional expenses after your demo is produced. The costs for these items will vary or may not apply, depending on how you plan to market your demo. For example, if you will be primarily marketing your demo as an electronic MP3 file through your website and email, you will be able to avoid most of the additional costs below.
CD Duplication: Audio CD is the recommended hard-copy demo format (if needed), and will cost about $4.50 or more in small runs of less than 100 copies. Be sure you have your print materials designed for the full Jewell case. We do not recommend using a slimline case for your demo.
Graphic Design: If you are talented in this area you can do your own, but for a professional look, you will most likely need to find a graphic artist in your area.
Printing (business cards, stationery, CD Labels, CD Insert, CD Tray Card): With a high quality printer and appropriate software, you may be able to do this yourself, but you might want to price the cost of professional printing as well.
Marketing: Don't forget to budget for telephone calls, postage, stationery, and suitable packaging for mailing out your demos.
Time: Plan on spending some time gathering names, addresses and other contact information.  Also plan the time for making initial calls and follow-up calls.
HOW MUCH TIME WILL IT TAKE TO PRODUCE MY DEMO?
Begin by planning at least a week or two for preparation of your copy (not including any workshops or other training you are taking.) Producing your demo can be a time-consuming process. At VoiceActing Studios, we ask our demo clients to plan for about 3-4 weeks of preparation before even entering our studio. 
We include two separate pre-production sessions specifically designed to determine your signature sound and develop variety in your delivery. It's very important that you are well prepared when you enter the studio for your demo session. Beware of demo producers who hand you scripts at your demo session without giving any consideration to your demo objectives and performing skill sets.
Plan on spending at least one full day in our studio. We prefer to have your input throughout the production and you may learn a few things that will be of value during future sessions. You will normally leave the studio with your completed demo on CD and an MP3 file either copied to a flash drive you bring with you or e-mailed to you.
If you cannot come to our San Diego studio, we can also work with you long distance, provided you have a quiet home studio and a good microphone. We'll set up a video conference call so we can direct you during the session. With a good internet connection and a software download, we can do a Source-Connect Now session.
HOW WILL I PAY FOR MY DEMO PRODUCTION?
This will depend on who you hire to produce your demo. At VoiceActing Studios, we accept cash and personal or business checks. We use PayPal as our primary payment portal for credit card transactions. You can use your Visa or MasterCard whether or not you have a PayPal account. Or, if you have a PayPal account, you can click on "Send Money" using the "send to friends and family" option to pay via PayPal. Enter the e-mail address "payment@voiceacting.com", the amount of charges, a brief note about the payment and submit the payment. It's that simple, and it's a secure transaction. Be sue to follow-up your PayPal payment with an email to info@voiceacting.com.
HOW DO I BOOK MY DEMO SESSION?
To book your demo session, please call 858.484.0220 M-F, 10am-5pm PT.