VAA Webinar Series:
Positve Thinking = Positive Results
A completely FREE VoiceActing Academy webinar!
Change Your Thoughts and You Change Your World!
(Norman Vincent Peale)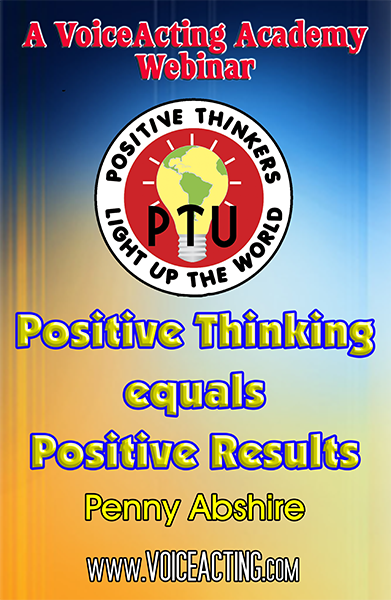 The reality of your life… and your daily experience… is largely a reflection of the thoughts you hold inside your head.
As Henry Ford once said, "Whether you think you can or think you can't, you're right!"
This webinar is our gift to you.
This is all about helping you change the way you think, which will in turn help you get the results you want out of your life, your relationships and your business.
Penny Abshire (now retired from voiceover) originally presented this program as part of a VO Atlanta convention. The concepts and techniques she shares are timeless and are just as valid today as they were then… and will continue to be valid in the future. Included are some testimonials from her students who reveal how they maintain a positive attitude and positive thoughts to enhance their personal life and career.
In this entertaining, 30-minute program you'll learn:
How the thoughts you hold in your mind affect everything in your life.
How to turn negatives into positives.
Things you can do to learn how to be thankful and grateful.
How to change your outlook… and your life… one small step at a time.
How to program your day.
Why positive thinking alone is not enough.
Many of the concepts and techniques covered in this program are also included in Penny's "Food For Thought" eBook series.
Because we want to let as many voice actors as possible have access to these powerful positive thinking techniques and tools, we've decided to give away this webinar and Penny's Food 4 Thought eBooks.
Sign up below to access Penny's webinar and eBooks: