Everything You Ever Wanted to Know About Professional Home Recording But didn't know what to ask!
From James R. Alburger
Studio Engineer, Producer, Director and
author of The Art of Voice Acting
If any of you are looking for a great book on setting up your studio, take a look at the book James puts out. Great material, clear and yet in depth where it needs to be. It's really well done! I'm actually producing my latest CD in my home studio – that I have been building based primarily on this book. James – I hope you got a whopping check from Musician's Friend, LOL. After producing this and the next CD – I will break even on the cost to build the studio versus what I paid for studio time. After that, the next few CD's will be essentially "cost free" as far as studio time goes. My point is – get the home studio E-book from James if you are going to do any home recording!
     Sean Buvala
The Voice Actor's Guide to Professional Home Recording is an easy-to-understand technical manual for equipping, setting up and using your home studio!

The completely revised 2nd edition has been updated with more than 40 pages of new content.

Learn about the latest in home studio equipment and recording technology including new replacements for ISDN.

This could only be done in an eBook: dozens of links to websites, blogs and articles with valuable information.
The perfect home studio reference book
If you're just getting started in voiceover, you know that sooner or later you must be able to record auditions and projects at home on your computer. It's simply the way the voiceover business works today.
A relatively new computer or laptop gets you half way there, but you'll still need a few things before you can record and deliver professional-quality auditions and paid projects. And if you're like most voice talent just starting out, you probably don't have the budget for a lot of expensive equipment, or the knowledge to put everything together.
The Voice Actor's Guide to Professional Home Recording is different from every other book, eBook, or DVD on home studio recording. It's packed with hundreds of links to other websites and additional resources including FREE recording software and more. Plus, every key point in the eBook is cross-linked within the book itself. Finding what you need to know has never been easier, and this is something you'll never find in a printed book!
Order your Home Studio eBook for Immediate Download.
Check your e-mail after ordering for download instructions.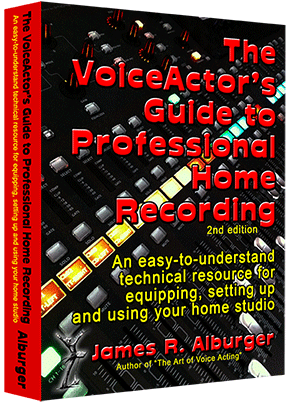 The Voice Actor's Guide to Professional Home Recording was exactly what I was looking for! This ebook puts everything you need to know about a home studio into simple language! There's no fluff or unnecessary content. It's an easy read that covers every facet of a home studio – from how mics work to fixing bad acoustics to trouble-shooting hum and buzz. What you'll find here is concise, down-to-earth, easy-to-understand information that will help you get your home studio up and running quickly… and within your budget.
     Reid Shannon
Here's what's new in the updated 2nd edition!
The Basics of Home Studio Recording

Audio Basics

How Microphones Work

Choosing the equipment that's right for you and your budget (plus links to buy it)

Essential information about your computer

Setting up your studio

How to make great recordings

Audio processing: what it is and how to use it

Organizing your computer

Everything you need to know about MP3 files

Delivering your auditions and projects

And much, much, more!
There are 3 Appendices with additional resources and Internet links, instructions on how to build an inexpensive acoustic baffle, and several equipment configurations that can meet even the lowest budget.
The Voice Actor's Guide to Professional Home Recording is an easy-to-read ebook that gives you the critical information you need to know to build your home studio, find the right equipment, fix your room acoustics, and start making great-sounding professional home recordings.
Order your copy on line by clicking on the "Add to Cart" button below. When your order is processed, you'll be immediately taken to a special page with instructions on how to download your eBook to your computer. Keep the eBook on your computer for convenience, or print it out for a handy studio manual.
Order your copy of
"The Voice Actor's Guide to Professional Home Recording" today
The Voice Actor's Guide
to Professional Home Recording
Immediate download from your VoiceActing account
$24.97