The VoiceActing Academy Studio Savvy Session is comprehensive training that will help you build your personal recording space
You choose: In-person or On-line
Either way, the Studio Savvy Session will give you all the information you need to know about your home studio.

Get a basic, yet comprehensive education in sound and how to use it to your advantage when recording your voiceover tracks. Learn how microphones work and how to select the best mic for you.

Learn how your home studio equipment works with your computer, how to connect everything together to get the best results, and how to troubleshoot problems when they occur.

Your home studio acoustics are critical to making great voiceover recordings. Learn how to uncover acoustic problems with your home studio and how to fix them to get the best sound possible.
Assemble your ideal recording space with the help of James Alburger
During this 3-hour workshop, you'll learn that there's a whole lot more to your voiceover home studio than you might have imagined. Your instructor for this session of technology overload will be James R. Alburger, audio producer, author, voice actor, and co-executive producer of the VOICE conventions.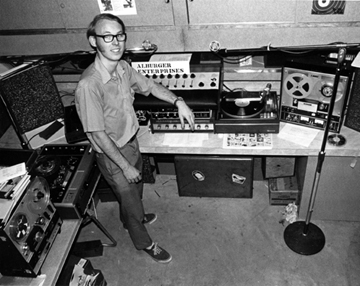 James has had a home studio since 1963 – long before the term "home studio" ever existed and long before most voice talent even thought about having a home studio. He was with NBC for 25 years as an audio producer and television director, and during that time he designed and helped build two television audio control rooms and a television audio truck.
Since leaving NBC, James has built a personal "sound cart" designed for recording on-location (on set) multi-track audio for film and video projects.
He's produced Emmy-award winning audio for NBC; engineered dozens of studio and on-location audio setups, ranging from simple interviews to complex music/entertainment shows; and has worked as a recording engineer/producer for two recording studios prior to opening VoiceActing Studios in 1998. Let's just say that James knows his way around audio technology and production! And even more… he knows how to teach it!
And, if you run into some challenges putting your home recording space together, James is there to help.io truck.
Thank you again for your expert help and advice in getting my studio set-up. Until our call I was really at a loss as to how to organise it; even though I have been in many a recording studio, I was having trouble figuring out the best layout for the space… what to put where and how (especially the mic and the monitor!)… I was spinning around, getting dizzy and getting nowhere. So thank you again! I admire how quickly you were able to sort it out and I appreciate your help so much
Everything you ever wanted to know about your home studio… but never knew what to ask!
Have you ever wondered how your microphone works?
Or why you sometimes hear hum, noise or even a radio station in the background of your recordings?
Or why your recordings just don't sound as good as you think they should?
And even more important… what you need to do to fix all those little issues with your home studio?
During the Studio Savvy Session you'll get answers to those questions… and a LOT more!
But learning about the inner workings of your home studio is only part of this amazing event! You'll also get personalized assistance with your recording challenges. Bring your laptop computer to our San Diego Session and get hands-on experience installing your software and setting up you equipment.
Or book a private Studio Savvy Session with James, either in person or online, to "tweak" your recording space for better efficiency and better sound.
Even if your home recording space isn't set up yet, we guarantee you'll learn a lot!
Here's just some of what you'll walk away with:
Learn how to set up your home studio equipment… correctly… the first time!
Find out how to deal with room acoustic problems that affect your recordings.
Get step-by-step instruction on how to troubleshoot problems with your home studio setup.
Learn how to completely eliminate hum, buzz, and other annoying electronic issues.
Discover the inner workings of each component of your home studio equipment.
Get hands-on experience with basic editing and production techniques.
Learn basic microphone techniques that can change the way you do your auditions.
Find out why all recording software is basically the same and why you do NOT need "the industry standard," no matter what your audio equipment dealer or VO coach might say.
And much, much more…
Bring your laptop, microphone, cables and USB interface to the San Diego Studio Savvy Session and you'll get personalized one-on-one assistance with your software, setup and home studio questions.
And the best part is , this evening event is only $100 if you are also attending a weekend P.I.E. workshop and only $147 if registered separately, including the webinar. Whether you attend in person in or on-line, this critical information is very affordable.
The Studio Savvy Session is limited to a maximum of 10 participants so we can guarantee everyone gets the attention they need. This event typically sells out quickly.
To guarantee your seat in the Studio Savvy Session, just click the registration button below. When your registration is processed, you'll be taken to a new page with all the details about how to log in to your account to get all the information you'll need before the workshop.
If you have already registered for a PIE workshop, CLICK HERE to get your PIE Attendee discount.